Luke Mancini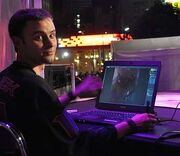 Luke "Mr. Jack" Mancini is a Concept Artist at Blizzard Entertainment.[1][2][3] He is also a member of the Sons of the Storm.[4]
Biography
Mancini studied at Monash University in Melbourne, Australia. He studied design, but drew videogame fanart in his spare time. Although he drew for a variety of subjects, StarCraft was his favorite setting, and he especially enjoyed drawing for the zerg. However, his fanart, which he posted online, caught the art team's attention, and seeing that Mancini had already applied, got in contact. He accepted a job offer and moved to California. He has worked there ever since.
Mancini mostly works in digital media, but has also done physical art. He provided art for the World of Warcraft Trading Card Game,[5] and has done artwork for the Hearthstone adventures Curse of Naxxramas and Blackrock Mountain.[6] He has also done artwork for StarCraft.[5]
References
External links
SonsOfTheStorm.com
 Profile on Sons of the Storm
SonsOfTheStorm.com
 Art Gallery on Sons of the Storm