Mariner Farsight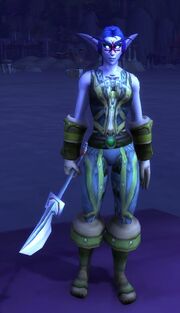 Mariner Farsight is a member of The Moonspray, the boat that runs between Auberdine and Rut'theran Village. She, with the help of the wisp, watches the seas for any lost souls.
Quotes
Gossip
The wisps and I watch the seas for any lost souls.
Notes
Can be killed, but respawns almost instantly giving no XP or loot.
Will not attack unless attacked first.
Does not help her allies when they are attacked, so its hard to believe they would help players if they are attacked (as they were intended to do).
Patch changes
External links