Maroon 'em with Fire
Objectives
Use the Undying Torch to burn 8 Pillaging Canoes.
Description
We gonna have to sail out to de Golden Isle to face Pirate-King Zem'lan.
Let's make sure de rest of de crew can't follow us once we go. Burn their boats in de harbor.
Rewards
You will receive:
Progress
Don't burn my boat, <name>. We be needin' dat one.
Completion
Good. We be ready to sail.
Notes
Pick up

 [110 - 120] The Grinning Idols before heading out. Upon accepting both, Jamboya, Bosanya, Jukanga, and Tulmac hop off the dock and head northwest.
First Mate Jamboya says: All hands to de boat! See ya soon, <name>.
Use the

 [Undying Torch] to destroy Pillaging Canoes found all over the northwestern parts of the port.
After finishing both objectives, find Jamboya, the mutineers, and Jamboya's Boat at [33.2, 81.8]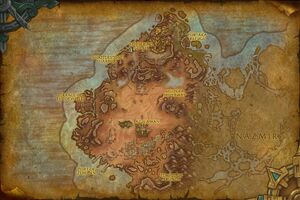 . On approach, Jamboya may say one of the following:
First Mate Jamboya says: Don't burn dis one, bucko. We be usin' it to get out to de island.
First Mate Jamboya says: We be almost ready to weigh anchor. Zem'lan never gonna see us coming.
Progression
Patch changes
External links