Meating Expectations
The subject of this article was removed from World of Warcraft in patch 5.4.0.

This includes items and quests that can no longer be obtained or are now deprecated.
The in-game information in this article is kept purely for historical purposes.
Meating Expectations

Start
End
Level
Type
Category
Experience
Reputation
Rewards
Repeatable
Previous

 [90 Daily] Mistfall Village
Objectives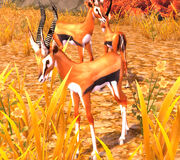 Retrieve 10 slabs of Fairlands Gazelle Meat.
Description
Hard workers deserve hearty meals, but I'm all out of good meat!
Can you head out into the forest and get me some fresh gazelle meat?
Rewards
Progress
No shortage of mouths to feed, that's for sure!
Completion
Doesn't get much fresher! Thank you, <class>.
Gains
Notes
Gazelles travel in packs of four, generally, across the road to the north in the Winterbough Glade. Watch out for the traveling Thundermaw packs! 50% drop rate.
Progression
Patch changes
External links