Merina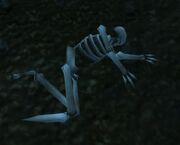 Merina is a human ghost who appears in the Abandoned Kirin Tor Camp in Deadwind Pass after looting the

 [Ritual Notes] during


 [98 - 110] The Deadwind Site. She was seemingly part of the disastrous ritual conducted by Arrexis but was killed while attempting to protect the

 [Ritual Focusing Crystal] from "the monsters". After the player loots the Ritual Focusing Crystal, which is lying near Merina's corpse, her ghost disappears.
Quotes
Upon looting the

 [Ritual Notes]:
Merina says: Are you here to take me away? Or do you only seek that which was left behind?
Merina says: I was told to stand watch, but no one ever came back for me. I wasn't strong enough to defend the site... or perhaps I was simply here too long. I'm not sure anymore.
Merina walks a few feet towards the northern clearing.
Merina says: If you want the ritual to work, you need the focus. I tried to keep it from the monsters, but I was too weak.
Merina points to the north.
Merina says: It lies near my corpse. I... I think it's keeping me here. Please, take it far away. Perhaps then I will finally be able to go home.
Merina walks back to her original position.
Merina can thereafter be spoken to.
I doubt you are here for me. Which means you are probably here for the research.
 Who are you? Yes, I am looking to recreate Arrexis's ritual.
Selecting the dialogue option will simply cause her to repeat what she said earlier.
Patch changes
External links