Mindbender Ghur'sha
Mindbender Ghur'sha is the third boss encounter of the Throne of the Tides in World of Warcraft: Cataclysm. The first half of the fight is against Erunak Stonespeaker.
Background
Adventure Guide
After his valiant efforts at the Abyssal Breach, Earthen Ring shaman Erunak Stonespeaker was abducted by naga forces and enslaved by Mindbender Ghur'sha. It is feared that this parasitic aberration has taken full control over Erunak's mind, body, and devastating shamanic abilities.
Abilities
Erunak Stonespeaker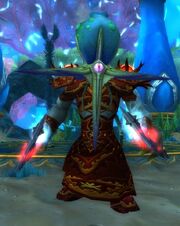 When the encounter begins, Mindbender Ghur'sha has taken control of Erunak Stonespeaker by attaching to his head. Erunak will fight players while Mindbender Ghur'sha has control. When Erunak reaches 50% health, Mindbender Ghur'sha detaches off Erunak's head. Players then fight Mindbender Ghur'sha.
Mindbender Ghur'sha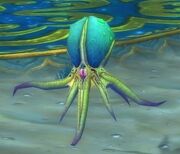 Tactics
Emberstrike and Magma Splash apply Magic debuffs that can be defensively dispelled.
The encounter begins with Erunak mind controlled and hostile. He will periodically cast Magma Splash and Lava bolt. He has 1,800,000 hp, however, once he is brought to 50% hp, the Mindless One will appear and release Erunak. The Mindless One has 619,000 hp. It will target a nearby player (it is thought by some that the player with the highest threat is chosen[citation needed] ) and Enslave them. That player must be brought to below 50% quickly so that dps can resume on Mindless One. While not enslaving players, he will cast Unrelenting Agony, which are shadow damage beams on all players that tick for moderate damage. He will mind control players roughly once a minute until defeated.
Absorb magic can be dispelled, or, if you have a mage in your party, the mage should spellsteal it.
Loot
Quotes
Phase Transition

Mindbender Ghur'sha yells: A new host must be found.
Erunak Stonespeaker yells: I thank you, my friends. Forgive me. I... I have grown too weak to be of any assistance.
Mind Control
There is only Ghur'sha.

Who are your allies?

Give in.
Mind Fog

Is. This. Reality.
Killing a Player
Too weak to serve!

Only your memory remains!
Victory

Mindbender Ghur'sha yells: They are outside the cycle...
Erunak Stonespeaker yells: I am... weary. You must carry on without me. I shall take my leave once my strength has returned.
Gallery
Videos
Patches and hotfixes
Hotfix (2016-12-06): "

Fixed a bug that was causing Mindbender Ghur'sha to be non-interactable.

"

Patch 4.0.3a (2010-11-23): Added.

External links