Minh Do-Tan (quest)
Minh Do-Tan




Minh Do-Tan at the crane statue

Start
Thelonius [31.3, 63.4]
End
Thelonius [31.3, 63.4]
Level
90 (Requires 90)
Type
Daily
Category
Krasarang Wilds
Experience
294000
Reputation
+350 August Celestials
Rewards
24 72 2
Repeatable
Yes
Previous
 [90 Daily] 

Ellia Ravenmane

Next
 [90 Daily] 

Ellia Ravenmane: Rematch
Objectives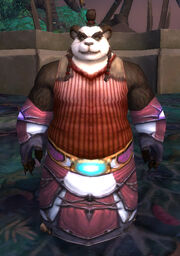 Defeat Minh Do-Tan.
Description
Your next challenger is another relatively new trainee. His name is Minh Do-Tan, and he has won his last two matches.
He will be waiting for you near the crane statue to the south.
(Minh Do-Tan: "Your next challenger.")
Rewards
Progress
Fight hard, <name>.
Completion
Well done, <name>. You are beginning to make a name for yourself.
Gains
Notes
Fly to the southwest side of the island. Equidistant from Angkhal Pavilion and the Pedestal of Hope, south of the pavilion and west of the pedastal, is a large crane statue. Standing in front of it is Minh Do-Tan. Speak with him:
I look forward to our melee. Of course, I plan to win.
 Let's fight!
Minh Do-Tan says: Prepare for the beating of your life, weakling!
Minh is a level 90 pandaren with 787,000 health and the following abilities:
Vicious Kick — Kick target enemy, inflicting Physical damage. Instant. Hits for ~14,000 Physical on cloth.
Spinning Crane Kick — Spinning kick all nearby enemies, inflicting Physical damage every sec to all enemies within 7 yards for 5 secs. Channeled.
Straightforward fight, so take him out.
On success:
Minh Do-Tan says: I am... humbled.
Fly back to the north end of the island to turn in.
Some time after completion, Ellia Ravenmane sends another letter...
Rematch
I heard you beat Minh Do-Tan. Well, I've been training, too.
I've asked Thelonius to set up a rematch between you and I. This time, we'll see who's really the better fighter!
Progression
Patch changes
External links