Nar'jira
Not to be confused with Zar'jira.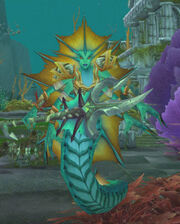 Nar'jira was formerly a Naz'jar Battlemaiden, but upon completing defeating the Kvaldir armies, she was crowned Champion of Azshara. Her storyline plays out through visions via use of the

 [Blade of the Naz'jar Battlemaiden].
During a great undersea war, the Kvaldir had pushed the Naga from the Ruins of Vashj'ir. The battlemaiden Nar'jira rose through the ranks of the Naga during that conflict, earning the trust of Lady Naz'jar, who sent her upon the task to recover the Crucible of Nazsharin. After Nar'jira returned with the Crucible, Lady Naz'jar used it to summon aid from the Old Gods to push back the Kvaldir and save her people.
Nar'jira does not appear in

 [82] Defending the Rift nor the Throne of the Tides, and her current whereabouts are unknown.
Abilities
Initial
Buff
In addition to her above abilities, the Battlemaiden also receives a stackable, passive speed buff, so long as she is out of combat.
Criteria of
Quest progression
Nar'jira is involved in the following quests in the Ruins of Vashj'ir:
Notes
Patch changes
References
External links