No Stone Unturned (quest)
The subject of this article was removed from World of Warcraft in patch 5.4.0.

This includes items and quests that can no longer be obtained or are now deprecated.
The in-game information in this article is kept purely for historical purposes.
Objectives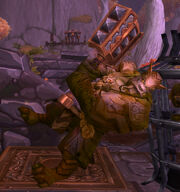 Destroy 10 Mogu Statues.
Description
The mogu have forced spirits into their old statues to bring them to life, control them, and turn them against us.
The only way to free the bound spirits is to destroy their vessels.
Rewards
Progress
The mogu seem to take some disgusting sort of satisfaction in subjugating other races. And each other for that matter.
Completion
Your efforts here make all the difference. Thank you so much for your help, friend.
Gains
Notes
Statues have been activated by soul-callers, or can be found in the ruins. They stand a chance of being destroyed just by being clicked on, but they may aggro like normal mobs.
Progression
Patch changes
External links