Ogri'la Peacekeeper
Ogri'la Peacekeepers are neutral guards defending Ogri'la from miscreants, wildlife, and the Burning Legion.
Quotes
<name>! The crystals sing your praises!

<name>, slay any dragons today?

If it weren't for <name>, where would we be now?

The crystals sing a sweeter song when <name> is around.

We still stand here only because of <name>'s help.
Patch changes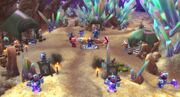 External links