Orb of Command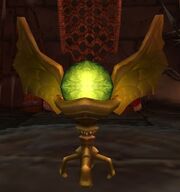 The Orb of Command is the "shortcut" entrance to Blackwing Lair in Blackrock Mountain. It is located down the hall to the right of the entrance to Blackrock Spire.
It was only usable if one had completed the quest

 [60D] Blackhand's Command, the attunement quest for Blackwing Lair. With the revamp of Upper Blackrock Spire in patch 6.0.2, the quest was removed and so was the attunement requirement.
Quotes
Gossip
The orb's markings match the brand on your hand.
 <Place my hand on the orb.>
The subject of this section has been removed from World of Warcraft.
Not completed

A large humanoid hand print is embedded on the surface of the orb. Despite what appears to be constant manipulation and handling, the orb remains unmarred.
Patches and hotfixes
Hotfix (2014-10-20): "Resolved an issue where characters in Spirit Form may be unable to interact with the Orb of Command to reenter the Raid instance."

Patch 1.6.0 (2005-07-12): Added.

External links