Overlord Or'barokh
For other uses, see Overlord (disambiguation).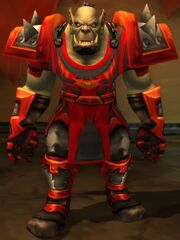 "The Kor'kron guard would be honored to fight by your side anytime."[1]
Overlord Or'barokh is an orc quest giver located at Shadowmoon Village in Shadowmoon Valley.
Quests
Notes
Overlord Or'barokh has the same skintone as the orcs of the Blackrock clan, implying that he may be a member of the clan.
Patch changes
See also
References
External links