Owynn Graddock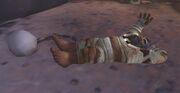 Owynn Graddock is a dwarf rogue of the SI:7. He has darkly tanned skin and black hair and beard and brown eyes.
History
The Shattering: Prelude to Cataclysm

This section concerns content related to the Warcraft novels, novellas, or short stories.
Shortly before the Cataclysm, he was handpicked by Mathias Shaw to lead 17 SI:7 rogues sent to liberate Ironforge and assassinate Moira Thaurissan. Prior to the mission, Graddock had scouted out almost the entire length of the Deeprun Tram's tunnel, so the group knew what to face. His team successfully eliminated any threat in the districts of Ironforge and eventually divided his team sending half of his assassins, Brink among them, with Varian to get Moira out of her chamber.[1]
Warlords of Draenor

This section concerns content related to Warlords of Draenor.
Agent Graddock was sent to keep an eye on the Bloodmaul ogres in Frostfire Ridge on alternate Draenor but was captured. Bodrick Grey sent the adventurer to find and release the dwarf. Upon getting his gear back, the two attacked Borgal Doomfist in spirit realm in order to find the
 [Soulgrinder]. He didn't participate in the fight as Borgal soul-grasped him, but the ogre chieftain was slain. Owynn wanted to find a priest to help Orlana Strongbrow who helped them to defeat the ogre.
Battle for Azeroth
This section concerns content related to Battle for Azeroth.
Owynn Graddock appeared in Stormsong Valley during Faction Assaults.
Abilities
Frostfire Ridge
Stormsong Valley
Quests
 [100] 

Garrison Campaign: The Search for Owynn Graddock

 [100] 

Gearing Up

 [100] 

Out of the Chains

 [100] 

Seeking the Truth

 [100] 

The Shadow Gate

 [100] 

Soulgrinder Survivor
Objective of
Quotes
This section concerns content related to Battle for Azeroth.
Aggro

Come here ye filthy <son / daughter> of a trogg! I'll show ye how SI:7 gets the job done!
Death

Didn't expect ta kick it... like this...
Notes
While in the novel he is described with brown eyes, in the game he has gray eyes.
His generic name in Frostfire Ridge is SI:7 Operative.
Patch changes
References
External links
| Owynn Graddock | Generic name |
| --- | --- |
| | |