Pagle's Pointe
The subject of this article was removed from World of Warcraft in patch 4.0.3a but is present in World of Warcraft: Classic.

The subject of this article does not exist on the retail realms anymore.
The categories should reflect this, and should not include retail realm categories.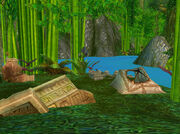 Pagle's Pointe is a subzone of Zul'Gurub, accessed by turning left down a hill just before reaching the outer walls of the Temple of Bethekk. This is where Gahz'ranka is fought. As the name indicates, Nat Pagle probably fished in this area.
After the Cataclysm, the place was cleaned up of the destroyed campsite.
External links