Picnic Basket
Not to be confused with  

[

Romantic Picnic Basket

]

.
Picnic Basket
Toy
Use: Adds this toy to your Toy Box.

Right Click to set up a relaxing little picnic. (3 Min Cooldown)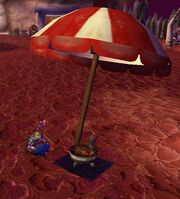 Picnic Basket is a rare item.
Sources
This item is a reward from the World of Warcraft Trading Card Game loot card "Rest and Relaxation" from the Through the Dark Portal expansion set.
It can be listed on the Black Market Auction House by Landro Longshot, for the opening bid of 15,000

.
Notes
The picnic allows you to summon a beach umbrella and hibachi grill that lasts for 3 minutes. Any player can click on the grill for Grilled Picnic Treats.
The picnic lasts exactly as long as the cooldown of the item.
Grilled Picnic Treats are consumable, but have no effect. The eating tooltip reads "Tastes great, does nothing." You can collect as many treats as you want from the grill.
As of Patch 2.1.0, the following changes were made to the Picnic Basket:
The Picnic Basket now has a 3 second cast-time.
The Picnic Basket can only be used outside now.
Patch changes
See also
External links
Warcraft Loot Cards
 Picnic Basket - Video