Pile of Bones (Icecrown)
For the Pile of Bones sought for

[

Separation Anxiety

]

, see Pile of Bones.
Pile of Bones
"A fallen soldier, stripped of flesh."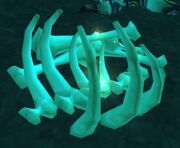 A Pile of Bones is one of three items required to create an explosive Armored Soldier Decoy out of the [Copperclaw's Volatile Oil] (horde) or [Smuggled Solution] (Alliance) for the quests:

 [Abandoned Armor] and an

 [Abandoned Helm] are also required.
Notes
The wowhead page for the Pile of Bones world object uses the same ID for this object (type) as for the one in the Hinterlands.
Patch changes
External links