Poison Paralysis
Objectives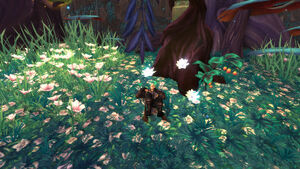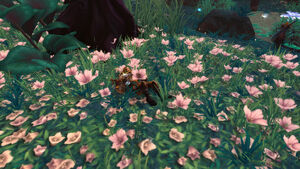 Rescue the missing travelers.
Description
There are others from the caravan that have gone missing.
My guess is they have been taken into Blademoon Bloom by the botani.
You have to rescue them, <name>. You are our only hope.
Here, take some of this elixir I just made, chances are you will need it.
Rewards
Progress
Did you find the others?
Completion
I can never repay you for all you have done here today, <name>.
I am truly in your debt.
On complete:
Fiona says: Please let me know if there is anything I can do to repay you.
Gains
Notes
Pick up

 [90] Botani Beatdown,

 [90] Blademoon Bloom, and

 [90] Forever Young before heading out.
On the way to Blademoon Bloom, find a Sleepy Rangari on the east bank. She offers

 [90] Slumberbloom. The red slumberblooms all over the area to the south. It may be easier to create a /tar Slumber macro and turn on target tracking on the minimap.
Further south, in the Blademoon Bloom, find rare mandragora Venomshade, which drops the Venomshade Skin Boots and 10-20

[Garrison Resources].
All of the named NPCs and Youngroot nodes are marked on the minimap in Blademoon Bloom. The botani spawn in trees, and Arepheon is at the south end of the area. Find Arepheon and pick up his next quest,

 [90] Gestating Genesaur, before heading back to the caravan.
After completing Gestating Genesaur, Fiona offers one last quest,

 [91] Fiona.
Progression
Patch changes
External links