Potency (quest)
The dream brew that you sampled earlier can expand your consciousness and show you events transpiring around the land. I will teach you how to use it properly, and we will find your prince!
But first, help me to create a fresh batch.
Objectives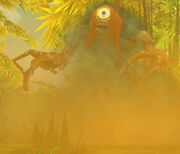 Kill Mist Creepers until a Mist Horror appears, then collect a Mist Horror Heart.
Description
To make the Dream Brew, we will need several ingredients.
First, to improvve its strength, I will need an ingredient from a fearsome creature, the legendary Mist Horror.
It is said that this creature only appears where the fog is deepest.
North and east of here, you will find the smaller Mist Creepers raoming the swamps. Kill these creatures until the Mist Horror appears, and then bring me its heart.
Rewards
Progress
The mists seem to have a mind of their own, do they not?
Completion
This is an amazing specimen! I am quite shocked that you have succeeded, actually.
Gains
Notes
Pick up

 [86] Body and

 [86] Hue before heading out. Into the Amberfly Bog to kill mistlurkers, crocolisks, and wasps. Don't forget to use the skinning knife on the amberflies!
First kill:
The mist senses your presence!
Second:
Mist gathers around you.
Fourth:
All around you, the mist grows denser.
Sixth:
The mist envelops you in its grip!
On the eighth kill, the Bog Horror will appear!
Out of the mist, a creature emerges!

Mist Horror yells: You cannot...escape!
The Mist Horror is a level 85 mistlurker with 158,000 health and one special ability:
Swamp Gas — Breathes a foul gas, inflicting Nature damage to all enemies in front of the caster every second for 5 sec. 1 sec cast. Starts a channel, which triggers every second:

Swamp Gas — Inflicts Nature damage every second. Instant. Ticks for 2631 Nature every second
Progression
After

 [86] SI:7 Report: Take No Prisoners:
Patch changes
External links