Preserved Holly
| | |
| --- | --- |
| | The subject of this article or section is part of Feast of Winter Veil, a seasonal event that lasts several weeks. Once the event has run its course, this will no longer be available until next year, but there are no guarantees. |
Preserved Holly
Use: Your mount will be more festive. (1 Min Cooldown)
Requires Level 20
1 Charge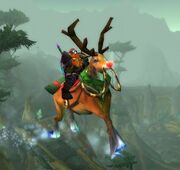 Preserved Holly, as a stack of 5, is a quest reward from the following quests:
This item can also be found inside
 [Ticking Present].
Notes
This gives a 1 hour buff which changes your mount into a reindeer each time you mount, complete with sparkling feet that leave an energy/snowflake trail if you use a flying mount. There is a jingling bell sound when you mount and each time you jump, or take off in the case of a flying mount.
History
Originally this was a one-time-use item that worked until you got off of your mount. As such, people preferred not to waste it until they knew they would be on their mount for a while.
The fist Winters Veil after flying mounts were introduced in World of Warcraft: The Burning Crusade , this did not work on flying mounts.
Patch changes
Patch 3.0.8 (2009-01-20): Changed icon. Now gives 1 hour debuff that automatically transforms your mount when you mount up.

Patch 1.8.4 (2005-12-06): Added.

See also
External links