Pristine Standard of Niuzao (quest)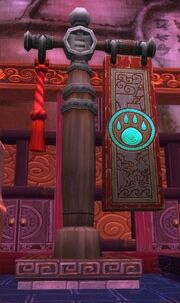 Pristine Standard of Niuzao is a quest that allows the player, through phasing, to permanently display a

 [Standard of Niuzao] as a physical object in the Seat of Knowledge.
Objectives
Put the artifact on display.
Description
This artifact has been restored to a remarkably excellent condition. Perhaps you will put it on display at the Seat of Knowledge, so that lorewalkers and archaeologists can study it.
Rewards
Progress
Remove the clutter and put the artifact on display.
Completion
This will aid lorewalkers and archaeologists in understanding the history of Pandaria.
Notes
Standard of Niuzao
A spool of thick canvas that, when held aloft, unfurls to reveal a proud emblem of the Pandaren Empire. Heavy iron rings dangle from long ribbons of leather affixed along the bottom, pulling the banner taut. Stitched into each strip of leather is a reminder for the standard-bearer: "Fear seeks to diminish you. / Instead, let it reveal you."
This specimen was donated by the esteemed <class>, <name>.
Patch changes
External links