Red Linen Shirt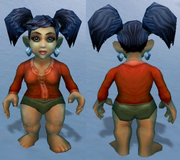 Red Linen Shirt is a shirt item that can be crafted with a Tailoring skill of 40. The pattern is taught by tailoring trainers for 50

.
This item is also a quest reward from

 [10] Fine Linen Goods (retail) or 

 [9] Red Linen Goods (Classic).
Other versions
Patch changes
Patch 7.0.3 (2016-07-19): Quality changed from Common to Uncommon and made BoE.

Hotfix (2010-12-20): "

Several shirts have been corrected so they no longer cause a player's item level to increase. They are item level 1.

"

External links