Reins of the Heavenly Onyx Cloud Serpent
Reins of the Heavenly Onyx Cloud Serpent
Mount
Use: Teaches you how to summon this mount.
Requires Level 90
Requires Artisan Riding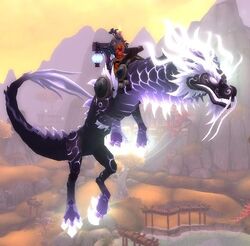 The Reins of the Heavenly Onyx Cloud Serpent are an extremely rare drop from the Sha of Anger in Kun-Lai Summit.
They can also be found listed in the Black Market Auction House by Madam Goya, for the opening bid of 20,000

.
Mount Journal
Heavenly Onyx Cloud Serpents are born with violet scales covering the entirety of their body. Over time, these scales darken to the color of onyx.
Patch changes
External links
Mount family
Specific types

 

Cloud serpent mounts

Thundering
Heavenly
Celestial Dragon