Reins of the Mighty Caravan Brutosaur
Reins of the Mighty Caravan Brutosaur
Mount
Use: Teaches you how to summon this three-person mount with vendors.
Requires Level 110
Requires Apprentice Riding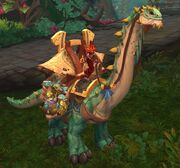 The Reins of the Mighty Caravan Brutosaur summons a mount similar to the Traveler's Tundra Mammoth and the Grand Expedition Yak, containing the vendor Merchant Maku, and the auctioneer Collector Unta.
As of Battle for Azeroth, the Reins of the Mighty Caravan Brutosaur is the most expensive item sold by a vendor in-game, the only brutosaur mount, the only source of a portable auctioneer NPC, and seemingly also the largest and tallest mount available.
Owning this mount rewards the Feat of Strength

[Conspicuous Consumption].
Source
This item occasionally appears on the Black Market Auction House with a starting price of...
The subject of this section was removed from World of Warcraft in patch 9.0.1.
It was sold by the following vendors for 5,000,000

:
Mount Journal
Brutosaurs are used by the Zandalari Empire as both weapons of war and enormous, mobile trading posts.
Trivia
Players usually refer to this as the 'brutosaur mount', or sometimes "long boi".
Patch changes
Patch 9.0.1 (2020-10-13): The Mighty Caravan Brutosaur is no longer sold by vendors and will now be occasionally available on the Black Market Auction House.

Patch 8.3.0 (2020-01-14): Players who own the Mighty Caravan Brutosaur mount now earn the Conspicuous Consumption Feat of Strength.

Patch 8.0.1 (2018-07-17): Added.

External links
Mount family

Dragonkin
Feathermane
Invertebrate
Mammal
Reptile
Other

Specific types