Retribution Aura
Retribution Aura

Retribution Aura

Level 60 Protection paladin talent

Passive

Protects yourself and all party or raid members within 60 yards with an aura that deals (4.5% of attack power) Holy damage when melee attacked.

Usable by
Class
Other information
Level learned
Related buff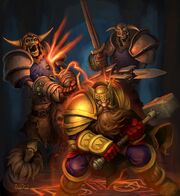 Retribution looms for those beyond redemption.[1]
Retribution Aura is a level 60 Protection paladin talent.
Patches and hotfixes
Patch 7.1.0 (2016-10-25): No longer ignores tanks (including self).

Patch 7.0.3 (2016-07-19): Re-added and redesigned.

Old: Causes X Holy damage to any enemy that strikes a party or raid member within 40 yards. Players may only have one Aura on them per Paladin at any one time.

See also
References
External links