Return to Rest
The subject of this article was removed from World of Warcraft in patch 5.4.0.

This includes items and quests that can no longer be obtained or are now deprecated.
The in-game information in this article is kept purely for historical purposes.
Objectives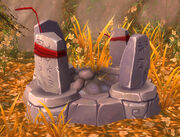 Honor 6 Pandaren Gravestones.
Description
The spirits of our ancestors are reliving one of the most revered battles in our history at the Tu Shen Burial Grounds to the east.
Do as I ask, <race>, and honor their gravestones. Remind them that they are respected even these many years later, and that they are deserving of peaceful rest.
Rewards
Progress
We would still be under the rule of the mogu if not for the courage of our ancestors.
Completion
Thank you, my friend. Your respect for our ancestors means a great deal.
Gains
Notes
Pandaren gravestones can be found all over the burial grounds.
Progression
Patch changes
External links