Rolling with my Homies
Rolling with My Homies

Start
Megs Dreadshredder[58.2, 76.5]
End
Megs Dreadshredder[58.2, 76.5]
Level
3
Category
Kezan (starting zone)
Experience
250
Reputation
+250 Bilgewater Cartel
Rewards
 

[

Skyrocket Gun

]

or  

[

Fancy Pants

]

or  

[

Tight-Fitting Leather Leggings

]


50
Previous
  [3] 

Megs in Marketing

Next
  [3] 

Report for Tryouts

,   [3] 

Do it Yourself

,   [3] 

Off to the Bank
Objectives
Drive the Hot Rod around and pickup your friends: Ace, Gobber, and Izzy.
Provided item:

 [Keys to the Hot Rod]
Description
<Name>, you're about to host the corporate party to end all corporate parties. My research suggests that if you're seen having a good time at the party your promotion quotient will skyrocket and explode!
So, with that in mind, might I suggest that you take your hot rod out for a spin and go pick up your friends around town?
Just remember me on the way up when it all comes together and you're the new Trade <Prince/Princess>, okay?
Rewards
You will also receive: 50

Progress
The party's almost ready. How was your trip to town?
Completion
Well done, <sir/ma'am>. You all look very good riding around in the hot rod. I'm sure you made quite an impression on the citizenry.
Notes
On accept:
Megs Dreadshredder says: Ooh, I think you're gonna like this, boss!

Use the Keys to the Hot Rod to get into your car. Pick up your friends, Izzy, Ace, and Gobber.
Players are buffed with "Keys to the Hot Rod: Remember that you can always cruise in your Hot Rod." and have the

 [Keys to the Hot Rod] in their inventory as reminders. Use the keys and run around the east side of Bilgewater Port. Izzy is up at headquarters sunbathing at the pool, while Gobber is at the intersection of the KTC road and the main highway, while Ace is just off the main highway at the gas station.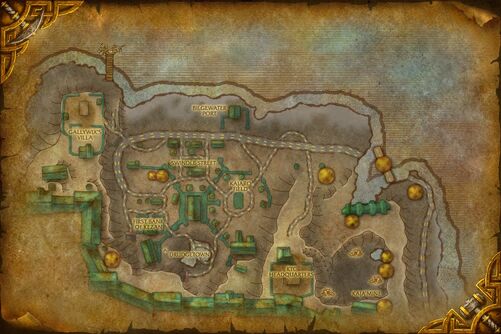 On complete:
Megs Dreadshredder says: There they are! Okay, you three make sure that you help <him/her> out today. <He's/she's> got a lot of stuff to take care of before the party!
Progression
Patch changes
External links