Runelocked
The subject of this article was removed from World of Warcraft in patch 5.4.0.

This includes items and quests that can no longer be obtained or are now deprecated.
The in-game information in this article is kept purely for historical purposes.
Runelocked

Start
End
Level
Type
Category
Experience
Reputation
Rewards
Repeatable
Previous

 [90 Daily] Guo-Lai Infestation
Objectives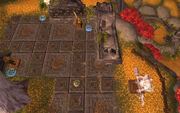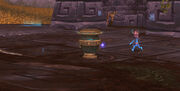 Retrieve the Ancient Mogu Artifact.
Description
Hello, friend.
One of Leven's men brought word to me of a mogu artifact in the eastern ruins, but said he couldn't figure out how to retrieve it. I suspect it's guarded by one of their rune locks.
If you go to the artifact, you should find four runes somewhere nearby that when activated will release the lock. If you could bring the artifact back to me, I would be very grateful.
Rewards
Progress
Did you find the runes I was telling you about?
Completion
This is marvelous... very well preserved. Thank you very much, friend! I owe you for this.
Gains
Notes
Head up the path to the north. In the center of the eastern ruins area is the Ancient Mogu Artifact. In the general vicinity are blue runes on the ground. Step on them to deactivate them.
Progression
Patch changes
External links