As part of the Unified Community Platform project, your wiki will be migrated to the new platform in the next few weeks. Read more here.
Salvage the Supplies
Not to be confused with  [110 - 120WQ] 

Salvage the Supplies

.
To Salvage the Supplies Gwen wants you to pick up four crates of supplies that are scattered around the square.
Objectives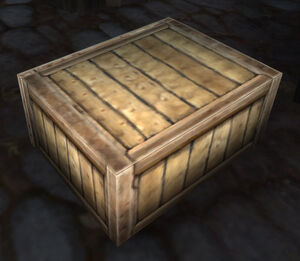 Salvage 4 Supply Crates.
Description
Listen, <name>. We can't let our supplies get destroyed.
With Gilneas walled off from the outside world, we won't last through winter if we lose much more of our stock.
Please help me salvage what you can.
Rewards
You will receive:
 [Salvager's Bag] and 65
Progress
Have you salvaged the supplies, <name>?
Completion
Excellent! I'll make sure these get taken to a safe place.
Gains
Notes
Crates are found all over the square.
Progression
Patch changes
External links