As part of the Unified Community Platform project, your wiki will be migrated to the new platform in the next few weeks. Read more here.
Sanguine Hibiscus
Sanguine Hibiscus is a quest object which can be found as a drop from mobs in Underbog as well as from object spawns in Underbog. It can also drop from mobs in the Steamvault, but with much less frequency.
As a quest objective
Stacks of 5 Sanguine Hibiscus may be turned in for 750 Sporeggar reputation in the quest

 [65] Bring Me A Shrubbery! and its repeatable component,

 [65] Bring Me Another Shrubbery!
As an object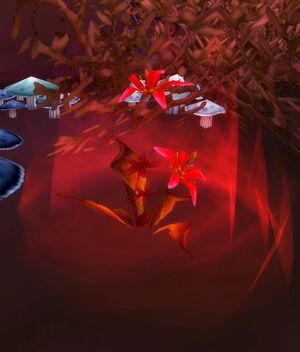 The Sanguine Hibiscus is located in Underbog. These also respawn, making it relatively easy to farm them in an empty instance, at least until the enemies respawn.
External links