Scholomance Neophyte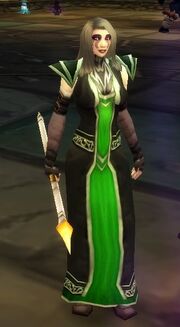 Scholomance Neophytes are humans, high elves, and gnomes of the Cult of the Damned found in Scholomance.
Abilities
Bound Servant - Summons an undead servant to defend the caster for 2 min.
Necrotic Pact - Sacrifices life force to animate a minion, taking damage for all damage inflicted to the minion.
Shadow Incineration - Incinerates an enemy, inflicting 2775 to 3225 Shadow damage.
Rend Flesh - Rends an enemy's flesh, inflicting 1110 to 1290 Shadow every 1 sec.

The subject of this section has been removed from World of Warcraft but is present in Classic.
Fear
Mind Flay
Shadow Bolt
Patch changes
Patch 7.3.5 (2018-01-16): Now scale.

Patch 5.0.4 (2012-08-28): Level 40 versions no longer appear. Model updated.

Patch 4.0.3a (2010-11-23): Level reduced from 56 - 58 to 40 - 41.

External links