Scout Riell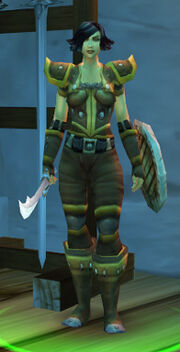 Scout Riell is a level 30 quest giver located on top of the tower in Sentinel Hill in the human territory of Westfall. She is affiliated with the Westfall Brigade.
She was previously part of the People's Militia.
Quests
The subject of this section was removed from World of Warcraft in patch 4.0.3a.
 [17] 

Red Silk Bandanas
Patch changes
Patch 4.0.3a (2010-11-23): Title changed from <The People's Militia> to <The Westfall Brigade>. Stormwind tabard added.

See also
External links