Scribblemaps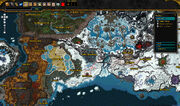 http://wow.scribblemaps.com
WOW Scribblemaps lets you rapidly create custom World of warcraft maps.

Features Include:
No account needed.
Draw all over Azeroth with shapes, lines, and scribbles.
View flight paths, herbs, ores, location, and footlocker markers.
Rapidly find places of interest through an auto-complete search box.
Place over 5000 types of WoW markers and Icons.
Create a custom widget for your website or blog.
Save and send custom maps to friends.