Shadowflame
For Nefarian's ability, see

[

Shadow Flame

]

. For the type of spell damage, see Shadowflame (spell school). For the Pet Battle ability, see

[

Shadowflame

]

.
Shadowflame

Shadowflame

Level 15 Demonology warlock talent
40 yd range
14 sec recharge
Lobs a ball of Shadowflame at the target, dealing (110% of spell power) Shadowflame damage immediately, and another (154% of spell power) Shadowflame damage over 8 sec, stacking up to 3 times.



Generates 1 Soul Shard.

Usable by
Class
Warlock
Properties
Type
Offensive
School
Shadowflame
Recharge
14 seconds
Other information
Level learned
15
Related debuff

Shadowflame
Suffering (35% of Spell power) Shadowflame damage every 2.
Duration: 8 seconds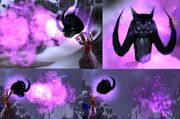 Shadowflame is a level 15 Demonology warlock talent.
Trivia
Shadowflame is a rare Warlock spell in Hearthstone, where it destroys a friendly minion and deals its Attack damage to all enemy minions. The flavor text reads: "Start with a powerful minion and stir in Shadowflame and you have a good time!"
Patches and hotfixes
External links