Shandy Glossgleam
Shandy Glossgleam is a gnome found on the balcony outside Threads of Fate in Dalaran. He washes people's clothes using his personal water elemental, Aquanos. His laundry service is instrumental in

 [80] A Suitable Disguise.
Quotes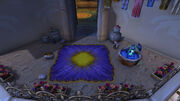 Gossip
The Threads of Fate is directly opposite the Silver Enclave in Runeweaver Square. On the upstairs balcony is Shandy Glossgleam:
Are you surprised to see me here? Everyone needs clean laundry, and what better way to do it than with your own water elemental?
Simply bring your laundry, pay a nominal fee, and before you know it, everything will be fresh and clean!

 Magister Hathorel/Arcanist Tybalin said you might be able to lend me a certain tabard.
You're in luck. I've got just what you need in the load I'm about to wash.

See the piles of laundry and the bucket of water? I'll call out what I need next, and you put it in the tub. Ready?
Did you sign up for

 [76] Lab Work? He'll call out one of four items:
Quick, add some shirts to the laundry!

Add the unmentionables... uh, I mean, the 'delicates'!

The tub needs more water!

Toss some pants in to the tub!
And one of a few random responses:
I should keep you around.

Well done!

That's how it's done!

Clean and tidy!

Nice. I don't want to know what the stain was.

Aquanos can hardly keep up!
When he's finally done, the Clean Laundry spawns next to the tub.
Aquanos, stop sending the clothes so high! You didn't have to see the look on Aethas Sunreaver's face when he found his pants in the fountain!

See how easy that was with everyone working together? Just take what you need from the clean laundry here, but don't forget to return it when you're finished.
Patch changes
External links
| Northrend | The Broken Isles |
| --- | --- |
| | |