Shatterspear Mystic (War of the Thorns)
For the non-event version, see Shatterspear Mystic.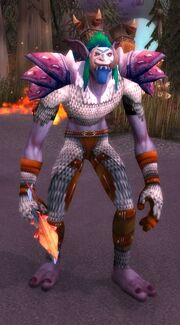 Shatterspear Mystics were jungle trolls that participated in the attack on Lor'danel with Varok Saurfang as well as at the forces stationed at Mist's Edge next to the village during the War of the Thorns in Darkshore. They also went with Varok into the woods to search for Warchief Sylvanas. Ultimately, they were seen gathered with the rest of the Horde army at Mist's Edge witnessing the Burning of Teldrassil.[1]
Abilities
Objective of
Quotes
Ah, I be needin' a new shrunken head....

We gonna be dancin' on ya grave tonight, mon!

De Shatterspears own dese lands, and ya not be welcome!

Relax, mon, I be makin' dis quick.
Patch changes
References
^  [110] 

Killer Queen
External links