Shin Whispercloud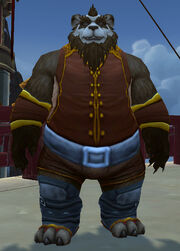 Shin Whispercloud is a pandaren found in Whispercloud Rise of the Kun-Lai Summit.
History

This section concerns content related to the Warcraft novels, novellas, or short stories.
Via his balloon, he once traveled to Anglers Wharf to collect some fish supply. While there, he met Li Li Stormstout whom he told about Kun-Lai. Li Li helped him to load the supply and hopped on the balloon. They traveled to the Temple of the White Tiger to unload the supply and continued to fly around the mountains. Shin noticed the changed behavior of Li Li's pet, Shisai and explained to her that it is because of a bad situation that arises with the Sha of Anger. Shin directed the balloon to the house of his pal, Courageous Yon who tamed Shisai for Li Li. After this, the two hopped on the balloon again and noticed that the Gate of the August Celestials is now open.[1]
Quests
Quotes
Gossip

Seeing scenery this beautiful really puts things into perspective.
 I'm ready to leave.
Patch changes
References
External links