Shrine of Inner-Light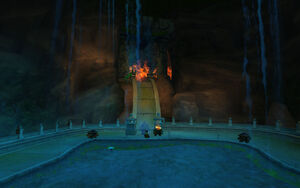 The Shrine of Inner-Light is a cavern found southwest of Wu-Song Village on the Wandering Isle. It's here the spirit of fire, Huo, is found. The hungry fire spirit is protected by a barrier of flame, and Master Li Fei awaits to test the character of adventurers seeking to meet him.
Notes
The path into the cavern has a fire gauntlet, which can easily kill those who do not pay attention. A Huojin Monk warn newcomers of the danger.
Gallery
Patch changes