Shrine of the Dawn (quest)
Objectives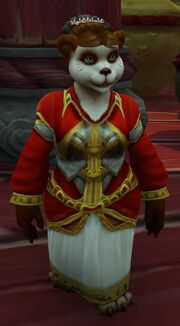 Search the Shrine of the Dawn for Syra Goldendraft.
Description
The "children" you seek are not actually children but grown pandaren, desipte what their elders might claim. Their love will not be held in check by the feuds of their families.
You will find both Syra and Lo at the Shrine of the Dawn, ever seeking an answer to their dilemma amongst the pandriarchs of old.
Rewards
Completion
Oh stranger! Please tell me you can help us. They really hurt my Lo.
Gains
Notes
Pick up

 [86] The Perfect Color and

 [86] Quill of Stingers before heading out. Head north out of the Arboretum once those two quests are completed to reach the Shrine of the Dawn. Speak with Syra.
Progression
After

 [86] Welcome to Dawn's Blossom:
Patch changes
External links