Simulacrumble
Objectives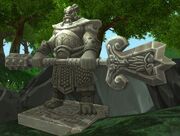 Kick 6 Vacant Destroyers in the Terrace of Ten Thunders.
Description
<The shattered remains of a ancient mogu statue. This one looks like it never animated before it was broken.
Whatever dark magic the mogu are employing here, it seems to make the brittle statues significantly tougher. Better to destroy them while they are still vacant.
A good old-fashioned kick should do the job.>
Rewards
Completion
<The statues topple and shatter with ease; a testament to the immense weight of the spirit.>
Gains
Notes
After completing The Sprites' Plight, the head of a shattered destroyer near the south end of the ruins offers this quest. Pick it up before getting started on

 [86] Break the Cycle.
Progression
Patch changes
External links