Skyhold Chest of Riches
Skyhold Chest of Riches
<Right Click to Open>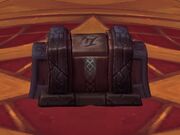 Skyhold Chest of Riches is a chest located in the Arena of Glory in Skyhold.
Contents
Notes
You must have researched the warrior class hall trait For Honor and Glory in order to see the chest.
The chest spawns on the hour every 3 hours, beginning at midnight realm time.
There is a weekly cooldown.
Patch changes
Patch 7.1.5 (2017-01-10): The Skyhold Chest of Riches can now only be looted once a week.

Patch 7.0.3 (2016-07-19): Added.

External links