Smarter Than Your Average Trogg
Smarter Than Your Average Trogg

Start
End
Level
Category
Experience
Rewards
Shareable
Previous
Next
Objectives
Kill Krugg the Smart.
Description
<Cog Captain Winklespring's voice springs to life over your personal communication system.>
One of the recon pilots did a scouting run over the station. She reported that there seems to be a trogg on the top level that is larger and smarter than the others. He's somehow managed to get one of the Defendo-Tanks for the station working in his favor.
Take him out!
("Krugg the Smart: Smart being a relative term.")
Rewards
You will receive:
Progress
Have you found out anything?
Completion
The big trogg was holding this? I think I have an idea...
Notes
Krugg is located near the top of the Fizzcrank Pumping Station.[64.4, 23]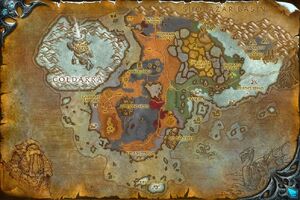 Kill him, loot the

 [Broken Communication Device], then return to Fizzi at the Fizzcrank Airstrip.
Progression
Patch changes
External links