Snapclaw (quest)
Snapclaw

Start
End
Level
Type
Category
Reputation
Rewards

+1 Fishing skill
11 40 1

Repeatable
Objectives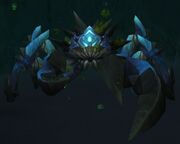 Kill Snapclaw in a cave at the bottom of Narsong Trench and return with his claw as proof.
Description
A giant, poisonous crab is wrecking havoc on our local abalone stores. I need you to go down into narsong trench and take it out!
("Snapclaw: Snapclaw has been wrecking havoc on the local abalone population.")
Rewards
You will receive: 11

40
1

and one point of Fishing skill
Progress
Did you take out that nasty crawler?
Completion
That is quite the claw, Snapclaw must be bigger than I thought! No matter, job well done <name>!
Gains
Notes
Dive into Narsong trench just to the northeast and swim into the cave at the bottom. Snapclaw is in the cave which also functions as an air pocket.
Progression
Patch changes
External links