As part of the Unified Community Platform project, your wiki will be migrated to the new platform in the next few weeks. Read more here.
Snowblind Terrace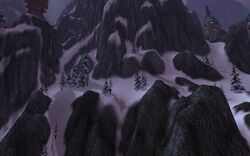 The Snowblind Terrace is situated above the Snowblind Hills and the Crystalweb Cavern, below and southeast of Sifreldar Village, and southwest of Brunnhildar Village in the southern foothills within the Storm Peaks.
It is inhabited by icemane yeti.