As part of the Unified Community Platform project, your wiki will be migrated to the new platform in the next few weeks. Read more here.
Sparkleshell Snapper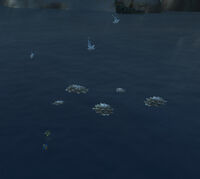 Sparkleshell Snappers were level 34 - 35 tortoises native to the Shimmering Flats in Thousand Needles. Being unable to swim, almost all these tortoises were killed during the Shattering, when Thousand Needles was flooded by the waters of the South Seas.
Most of them can now be found dead, at the bottom of the now-called Shimmering Deep or floating in small groups at the surface: collecting their bodies is the objective of

 [42] Carcass Collection. Only a few Stranded Sparkleshells survived the disaster, and are now roaming dry places like the path leading to Tanaris.
External links
| Before the Shattering | Underwater | Floating! |
| --- | --- | --- |
| | | |