As part of the Unified Community Platform project, your wiki will be migrated to the new platform in the next few weeks. Read more here.
Springtail Crag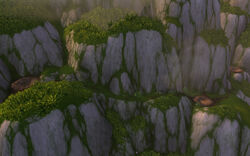 Springtail Crag is the main Springtail virmen nest on a ridge high above Cattail Lake's northern bank in north-central Valley of the Four Winds. The Springtail Warren-Mother is found in the far eastern hole of the three.
The crag is only accessible by flying mount. Further north is the mountain range separating the valley from the Vale of Eternal Blossoms.
Patch changes