Sprite Plight
The subject of this article was removed from World of Warcraft in patch 5.4.0.

This includes items and quests that can no longer be obtained or are now deprecated.
The in-game information in this article is kept purely for historical purposes.
Objectives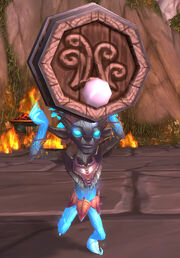 Kill 8 Slateskin Troublemakers.
Description
Sprites again! I hate these things. We need to stop them before they hurt someone or burn down half of the village!
If you see any of the pests, please deal with them!
Rewards
Progress
It's a wonder no one's been hurt yet.
Completion
We need to figure out where these things are coming from. We're dealing with this near daily and it's getting out of hand.
Thank you for your help.
Gains
Notes
There are fires located around the town, and the sprites can be seen coming up to the braziers to cause mischief. Unfortunately for some, they will set themselves on fire in the process, making it easier for the player to kill the mob.
Progression
Patch changes
External links