As part of the Unified Community Platform project, your wiki will be migrated to the new platform in the next few weeks. Read more here.
Steelbound Harness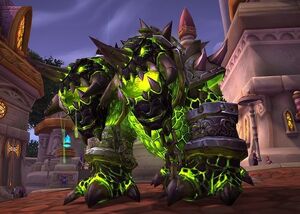 The Steelbound Harness is a Blacksmithing crafted mount. It summons a Steelbound Devourer fel beast mount.
Source
This item is created with Blacksmithing (800); taught by Recipe: Fel Core Hound Harness.
Mount Journal
Only the sturdiest-forged chains can restrain this beast.
Patch changes
External links
Mount family
Specific types