Stone Hard Quilen
The subject of this article was removed from World of Warcraft in patch 5.4.0.

This includes items and quests that can no longer be obtained or are now deprecated.
The in-game information in this article is kept purely for historical purposes.
Stone Hard Quilen

Start
End
Level
Type
Category
Experience
Reputation
Rewards
Repeatable
Previous

 [90] Leaving an Opening
Objectives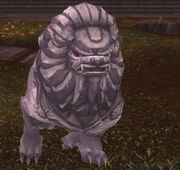 Kill 8 Granite Quilen.
Description
Leven always says the only good quilen is a dead quilen, and I'm inclined to agree. You here to aid the cause?
Rewards
Progress
Years on the wall have prepared me for anything the mogu can throw at us. This war will be short lived.
Completion
Less of those beasts on the field always cheers my day a bit. Thanks.
Gains
Notes
Pick up the three other dailies before heading out.
Just to the northwest. Plenty of targets to be had. Arrows are generally clumped in a group of 5-7, and friendly pandaren are lying wounded on the ground all over. Help out Golden Lotus defenders to speed the killing somewhat - but be warned that any damage they do to the hostiles garners no threat, so the first attack will pull aggro.
Progression
Patch changes
External links