Stonetalon Mountains storyline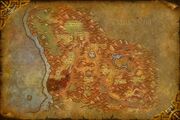 Stonetalon Mountains is a neutral level 25-30 zone in central Kalimdor. Both Alliance and Horde are led here from Ashenvale, where some of the starting quests for this line take place.
After this zone is complete, or reaching level 30, Southern Barrens and Desolace are possible questing areas
Alliance
Ashenvale and Windshear Crag/Windshear Mine
Requires completion of a quest chain in Ashenvale from Stardust Spire before becoming available.
Gnomecorder and Mine:
Ruins of Eldre'thar and Webwinder Hollow
 [28] 

Fallowmere Beckons

(To the Sludgewerks/Mirkfallon Post)
The Sludgewerks
Thal'darah Grove and Stonetalon Peak
 [29] 

Save the Children!

 [29] 

Last Ditch Effort

 [30] 

Thal'darah's Vengeance

(To the Charred Vale!)
The Charred Vale
 [30] 

Thal'darah's Vengeance

 [30] 

Ascending the Vale

 [30] 

Brood of Seldarria
Northwatch Expedition Base Camp, Deep Reaches, and Camp Aparaje/Grimtotem Post
Northwatch Expedition Base Camp/Deep Reaches:
Grimtotem Post/Camp Aparaje:
Daily

 [28 Daily] Thinning the Horde
Horde
Ashenvale
Krom'gar Fortress

Daily Quest:

 [27 Daily] Seek and Destroy
Webwinder Hollow and Malaka'jin
 [28] 

Da Voodoo: Stormer Heart

/  [28] 

Da Voodoo: Ram Horns

Complete all of:
 [30] 

All's Quiet on the Southern Front

(To the Sludgewerks)
The Sludgewerks
Cliffwalker Post
To the Southern Barrens

 [30] Nura Pathfinder
To Desolace

 [30] Nothing Left for You Here