As part of the Unified Community Platform project, your wiki will be migrated to the new platform in the next few weeks. Read more here.
Stunned Whitepetal Carp
The subject of this article was removed from World of Warcraft in patch 5.4.0.

This includes items and quests that can no longer be obtained or are now deprecated.
The in-game information in this article is kept purely for historical purposes.
Stunned Whitepetal Carp
"It seems Ren's fishing methods are strangely effective."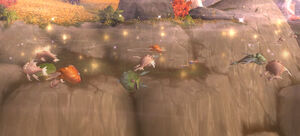 Stunned Whitepetal Carp are floating on the surface of Whitepetal Lake after being zapped by Ren Firetongue.
As a quest objective
Patches and hotfixes
External links